The History of Joeys' Pizza & Pasta—A True Family Business
In 1990 Joeys' Pizza & Pasta was founded by partners Joseph Rulli and Joseph Ferringo, in the Beach Haven Crest section of Long Beach Island, New Jersey. Ferringo's Grandfather Tony originally owned the location and operated it as Tony's Pizza with the help of his sons Steven and John. In 1984, after nearly 25 years of business, the family restaurant was sold. Brother-in-laws Rulli and Ferringo drew on their knowledge of the restaurant industry to go into business for themselves.
Coincidentally, the same building previously occupied by Tony's Pizza was available. It was then, Joeys' Pizza & Pasta was established and operating in familiar surroundings. While in the planning stages, the partners named the restaurant Joeys' Pizza & Pasta – the apostrophe following the "s" on Joeys', signifies that both owners share the same name.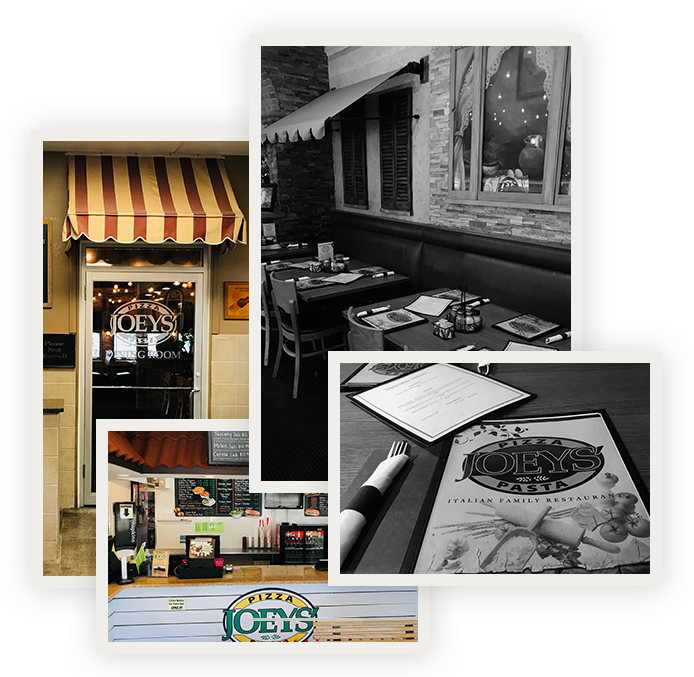 1992
Ferringo moved on to pursue other interests and Rulli became the sole owner/operator of the popular LBI eatery. The apostrophe remained after the "s", as Rulli and his wife Lori welcomed their first child, Joseph Anthony, in 1991. A daughter, Gabrielle, was born in 1995.
1994
Rulli opened the doors at a second Joeys' location, just over the bridge in the year 'round township of Stafford. Joeys' Pizza & Pasta's Manahawkin restaurant quickly became Stafford's most popular pizza restaurant.
2008
saw Rulli open a 2nd LBI location in Ship Bottom. Located on the corner of 22nd & the Blvd, in the building that was once home to the Islander Ice Cream Shop (one of LBI's oldest Ice Cream Stores). After a complete renovation, this Joeys' Pizza & Pasta became a popular stop to beach-goers. This location offers delivery and continues the Ice Cream tradition that the building has been known for.
2019
Currently, Joeys' Pizza & Pasta operates in Ship Bottom and Manahawkin. (The original LBI location was sold in 2019 to Long Beach Twp.) Rulli's son, Joey is now a full-time partner in the operation. His daughter, Gabrielle is the owner/operator of Cookie Dough's Dessert Shop, a sister business of Joeys' Pizza & Pasta, located adjacent to the Manahawkin restaurant.